The Power of Affirmations
Posted by Diana Layne Apr 27 2012, 12:01 am in affirmations, Amazon Montlake, Debra Holland, Diana Layne, Ellie James, law of attraction, visualization
A couple of years ago, I wrote a blog post on getting knocked down with tips on bouncing back.  You can read it HERE. (Amazing how long things hang around on the Internet, right?)
In addition to those tips, I have several other tricks I use and have used which include The Artist's Way, creative visualization, the law of attraction and of course,  the subject of this post, affirmations.
What exactly are affirmations?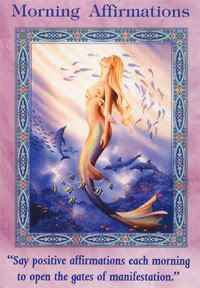 A simple definition: An affirmation is a statement we make to ourselves, positive or negative. Too often, this self-talk is negative.  Which does no good and keeps you stuck in the same negative bad-luck cycle. Time to change to the positive! Yes, it takes conscious effort to change, but it can be done. And the result will be a better life, because thoughts become things.
Let that sink in for a minute: thoughts become things OR IN OTHER WORDS what you think about becomes your reality. Pretty heady stuff, right? Sound good? Then let's go!
Here are some tips for creating affirmations:
1.    State them in present tense (written or spoken)
2.    Make them positive (i.e. don't write what you "don't" want to happen but what you "do" desire. "I am a published writer" vs. "I don't want my novel to get rejected.")
3.    The shorter and simpler, the more effective.
4.    Create affirmations that are right for you (this might take some thinking/meditating/praying over)
5.    Create a feeling of belief that the affirmations can be true. To further explain #5: Some things you want might not feel achievable. For example, what if you want to be a New York Times bestseller, but you haven't even finished writing your first novel? In that case, stating or writing, "I am a New York Times bestselling author," might be a bit of a stretch for you to believe. You might want to start with "I am a published author." OR if you're determined for that NYT thing—and what is wrong with that?—try this: "I am IN THE PROCESS OF BECOMING a New York Times bestselling author. When I started out with affirmations I used that I AM IN THE PROCESS OF BECOMING phrase A LOT!!!
I am firmly in the affirmation believers camp, although when I started I was a bit skeptical. But I started really focusing on affirmations and writing them daily, first thing every morning (I mean before I even rolled out of bed) in 2008. This was coming off my almost decade of not writing. And as I wrote these affirmations every morning, I gained confidence in myself again as a writer and my new WIP started to flow. One of the affirmations I used was, "I am in the process of becoming a Golden Heart® finalist." Didn't matter that over the past 20 years I'd entered about 10 times, I wanted that final, darn it. So guess what happened on Golden Heart® call day in 2009? Well, obviously you know since I'm here blogging with the Rubies. (After this happened, I changed all my "I AM BECOMING" phrases to "I AM's"!)
And yes, I write my affirmations but you can also say them or tape them all over your house and read them to yourself. Whatever works. I have two more little tips:
1. I start off my affirmations with: "Today I am thankful for…" as if I am grateful that what I want has already happened. (I think it gives my desires an extra little punch, can't hurt, right?)
2. I end with "The Law of Attraction is unfolding and orchestrating all that needs to happen to bring me my desires." I took this right out of Michael Losier's book Law of Attraction: The Science of Attracting More of What You Want and Less of What You Don't Want.
Below are two quick interviews of authors who use affirmations. I thought it might be interesting for you to see how they utilize them in their lives.
Ellie James believes in dreams and destiny. A graduate of the LSU Manship School of Journalism, Ellie has been writing as long as she can remember, with tragic poems and tender stories giving way to mystery, adventure, and a fascination with the unexplained. BROKEN ILLUSIONS, the second book in her YA Thriller series, hits the shelves May 8. For more info, check out her WEBSITE.
Where did you first learn of affirmations?
A [writer] friend, the fabulous Catherine Spangler, told me about affirmations as a tool to counter negative messages. From there, I did lots of research on my own, especially into the Laws of Attraction.
What made you decide to try them for yourself?
Um….desperation? No, seriously. I was at a point, both in life and with writing, where several disappointments had piled up on me and were pressing down, like weights. And I knew that wasn't healthy or productive. So…I decided to do whatever I could to make things better, beginning with changing my mindset.
Do you say them aloud? Do you write them down? Tape them to your bathroom mirror?
All of the above!!! I definitely write them down and tape them to the bathroom mirror, as well as my computer monitor. I've also learned how to counter any negative thought that flits through my mind with a positive affirmation. For example, if I find myself thinking, "Omigod, this is never going to work," I counter with, "This is the most amazing process in the world, figuring out the details is awesome!"
Do you have any tips about creating affirmations?
Think about Nora Roberts, and imagine you're her! Aside from that, let yourself think about who you want to be and what you want to accomplish, then write those affirmations as if you've already accomplished that. I use affirmations such as "Creativity flows through every cell of my body," and "Connecting with readers is an amazing experience." A tip that someone gave to me is to talk to keep your inner dialog and your affirmations as you would speak to someone you love. For example, we're often pretty hard on ourselves, speaking to ourselves in words we'd never use with a friend. I literally cringe when I heard someone call themselves an idiot or say they're stupid. I always try to speak to myself as a friend, like, "come on, honey, you GOT this." For me, that gentles everything down.
Have you ever gotten away from affirmations? If so, what led you away?
Yes. Unfortunately. Deadlines can be killer, and so can negative reviews. I'm not proud of how quickly a few negative words from strangers has trampled on years of hard work, overriding the positive messages I've programmed into my mind. BUT the key here is recognizing what is happening, and reprogramming.
How did it affect you?
It was terrible, and I found my confidence, my creativity, and my productivity all suffering. THAT is when I realized what was happening and ramped up my own affirmations!
What did you do to get back on track?
Basically, I sat down and made a list of all the negative messages that had begun to play AND the personal fears they triggered. THEN I countered each with a positive affirmation, and began to daily meditate on THOSE affirmations. Additionally, whenever a negative message would play, I'd stop it as quickly as I could and counter with the positive corollary. Soon, my "mojo" came back.
An additional thought…
Thanks for this, Diana! I'm a HUGE believer in thoughts becoming things, and that we are all the captains of our own ships. Let me conclude with a Steve Jobs quote that I absolutely love: "Your time is limited, so don't waste it living someone else's life. Don't be trapped by dogma – which is living with the results of other people's thinking. Don't let the noise of others' opinions drown out your own inner voice. And most important, have the courage to follow your heart and intuition. They somehow already know what you truly want to become. Everything else is secondary."
Debra Holland is a USA Today bestselling author and a Romance Writers of America® Golden Heart® winner. She's the author of The Montana Sky Series, sweet, historical Western romances, which she self-published as ebooks. She's had 90,000 sales in a year, and the books have recently been acquired by Amazon Montlake. You can learn more about Debra and her books, both fiction and nonfiction, on her WEBSITE.
(A note from Diana: Right after I loaded this post, Debra found out she'd made the USA Today bestselling list, so she had to update her bio, note the USA Today bestselling thing now–isn't that fabulous!)

Where did you first learn of affirmations?
About 20 years ago, I attended a human potential seminar, called PSI seminars. That's where I learned the power of affirmations, and worked on some personal ones. The one I needed to work on was, "I openly share my emotions with others." I haven't said that one for years because it hasn't been a challenge. It's hard for me to believe I was ever a person who didn't share her feelings!
What made you decide to try them for yourself?
They work.
Do you say them aloud? Do you write them down? Tape them to your bathroom mirror?
I sometimes say them out loud. Usually, those are the ones that bubble up and I say them. Others, I tape to my mirror. I have one on the inside of my locker door at my gym. One on my computer printer. Some around my desk area.
How often do you practice affirmations?
When I feel I need one then I try to say it several times a day.
Do you have any tips about creating affirmations?
Say them as if you already achieved them. For example, don't say, "I want," say, "I have."
Have you ever gotten away from affirmations? If so, what led you away?
Mental laziness. Forgetting about them.
How did it affect you?
I don't achieve as much.
What did you do to get back on track?
I'll come across one, or read or hear a new one, and that starts me off again. I like to say them when I walk or run. There's something about the cadence of the walk or run that is very powerful.
My affirmation for years was, "I sell my books to the perfect editor, at the perfect publisher, for the perfect price, AT THE PERFECT TIME, that is mine by divine right." It took many years until the perfect time came around, but now I'm so very grateful that I was patient! 🙂
THANK YOU ELLIE AND DEBRA!
In addition to books mentioned in the post, here are other books I used when I was learning about affirmations. If you decide to try affirmations, of course you can just get started–right now! But as you delve deeper into the practice, you might want to do additional research. There are many books on the subject so you should have no trouble finding a few that appeal to you! Good luck!
Love Yourself, Heal Your Life Workbook, Creative Visualization, The Science of Getting Rich
ANY QUESTIONS? Need tips on creating your own affirmations? Do you already use affirmations?
Diana Layne is an award-winning author of PIRATE'S PROPOSAL, a swashbuckling pirate tale in The Tales of The Scrimshaw Doll series, and THE GOOD DAUGHTER: A Mafia Story (Vista Security prequel). Book 1 of the Vista Security Series, TRUST NO ONE (also her Golden Heart® final) is due to release the first of June. Check out her BLOG to find out how to get an ARC of TRUST NO ONE (and to see the new cover), and sign up for her newsletter on her WEBSITE to keep up with her releases.