Posted by Ruby Admin Jul 31 2015, 12:01 am
New this week:
Montana Cherries, by Kim Law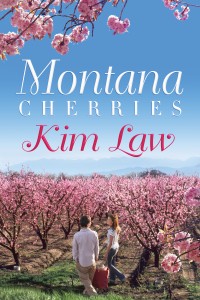 After her mother's tragic death, Dani Wilde had no choice but to abandon her dreams. She left Columbia University and returned to her family's Montana cherry farm, intent on being a maternal figure to her brothers. Now the kids are grown, and it's finally her time to fly. Her sights are on New York City, and nothing will stop her—not even an old flame with gorgeous green eyes.
Celebrity photographer Ben Denton hasn't seen Montana in years—and hasn't spoken to Dani since "that night" so long ago. When he discovers he's a dad to a four-year-old—and the child's mother refuses to care for her—Montana and the Wilde farm spring to mind. The orchard is the only place that's ever felt like home, but will the warmth of the Wilde family be enough to help Ben figure out how to be a father? 
As the Wilde family gathers for the yearly cherry harvest and Dani struggles to figure out what she really wants in life, she discovers the shocking truth about her own mother—and learns that following her heart may lead her to her dreams after all.
On Sale this Week:
And don't forget, for the remainder of the month, THREE of Kim's other books are still on sale for only $1.99 each! Sweet Nothings, Sprinkles on Top, and Ex on the Beach.
Share In the Comments!
Did you have a new release this week? A book on sale in the coming week? Have you read something that blew your mind? Sound off in the comments! We want to hear from you! We only ask that you are courteous to other commenters and that authors do not post the same book more than once. Thank you!
Posted by Elisa Beatty Jul 30 2015, 12:00 am

Big congrats to Ruby Sister Kim Law for the release this week of MONTANA CHERRIES. I'm thrilled to see this book out on shelves: an earlier version of the book was nominated for the Golden Heart in 2012, and it's a big, deep, romantic, heart-wrenching story. Reviews have been flat-out glowing, calling it FANTASTIC, AMAZING, […]

Posted by Jeannie Lin Jul 29 2015, 12:00 am

I was in NYC last week for RWA and while my friends visited Liberty Island and Central Park, New York was all about the eating for me. *pokes squishy middle* As a result, this week's Show and Tell Wednesday features a bit of food tourism: Momofuku Milk Bar's Bake the Cake class. I've had Milk […]

Posted by Heather McCollum Jul 28 2015, 1:32 am in conferences, friends, loneliness, rejection

So you went to the RWA conference (or another) and met up with your amazing writer friends. You pitched to your favorite editor who seemed enthralled with your book, nearly begging you to send it to her. You ate every meal with a smiling cluster of women who you view as sisters-of-the-heart. Your roommate and you […]

Posted by Vivi Andrews Jul 27 2015, 12:01 am

Conference is officially over for another year.  Writers are headed back to their computers, recharged and ready to write again–or lingering in New York for a few more days of sight seeing before getting our butts back into those chairs. I'm still recovering from my post-conference coma, but I wanted to take this chance to […]

Posted by Ruby Admin Jul 24 2015, 12:01 am

Happy Fangirl Friday coming to you this week from the RWA Conference in NYC! We have a great new book from Jacie Floyd this week! WINNING WYATT (Book 1 of The Billionaire Brotherhood) $3.99 Release date July 20 When Billionaire Wyatt Maitland shows up on Kara Enderley's doorstep after a three-year separation, the 30-year-old art critic […]

Posted by Amanda Brice Jul 22 2015, 12:01 am

The first full-length novel manuscript I ever finished was an epically bad chick lit called "Looking 4 Love." Oh sure, it couldn't have been THAT bad, since it won 1st place in the Jasmine contest, but trust me, it was bad. I just didn't realize it. Those first 30 pages were pretty good, filled with […]

Posted by Vivi Andrews Jul 21 2015, 12:01 am

It's conference week!  Today over two thousand member of Romance Writers of America are packing their bags and descending on New York City for the annual National Conference–or, like me, they've already arrived and are cramming in a few days of touristing before the insanity of conference begins.  For those who've never been, it's four […]

Posted by Liz Talley Jul 20 2015, 6:00 am in 2015 Rita, encouragement, liz talley, RWA2015, writer's life

Over the past few months I've been swamped. Spring is always busy with baseball, end of school activities and, since I try to write 2-3 books a year, a perpetual deadline. So, yeah, busy. Which means I haven't blogged here in a while. It's good to be back among my peeps. Since I've been MIA, I thought I would share a day […]

Posted by Ruby Admin Jul 17 2015, 12:01 am

Sorry we're a little late on Fangirl Friday this week! NEW This Week! Promises & Pina Coladas by Elizabeth Bemis It was a promise made for pina coladas Back in college, Annie never wanted to settle down, while Ben dreamed of making it big. But one celebratory night, a pact made over a particularly wicked […]

Posted by Elizabeth Langston Jul 16 2015, 12:20 am in goals, writing

Earlier this year, I went on a writing retreat with 5 Rubies. (Well, 4 Ruby sisters and 1 honorary Ruby!) One evening, I was listening to 2 of the authors discuss their goals for their careers–and it struck me that their goals had never even entered my thinking. Hitting a bestseller list? Earning enough money […]

Posted by Jeannie Lin Jul 15 2015, 12:10 am

Today's Show and Tell is brought to you by Arlene McFarlane and by the Letter 'M'. 'M' for Makeover that is. (More on that at the end. Stay tuned…) As you can see, my warm-up skills need work. I'll brush up on those as I hand you over to Arlene, one of the Golden Heart […]

Posted by Elisa Beatty Jul 14 2015, 12:01 am in 2015 Golden Heart finalist, Alexa Rowan

It's hard to believe, but we're at the end of our hosting season for the new class of Golden Heart Finalists. (RWA Nationals starts in a week, so I guess I really shouldn't be all that surprised….) Our final Dragonfly guest blogger is Alexa Rowan, whose book WINNING HER OVER is nominated for Short Contemporary […]

Posted by Elisa Beatty Jul 13 2015, 12:01 am in 2015 Golden Heart finalist, Coyote Walks, Maria Powers, paranormal romance

Today we're welcoming our second-to-last Dragonfly, 2015 Golden Heart Finalist Maria Powers, who's nominated in the Paranormal Romance category for COYOTE WALKS. Maria grew up in Southern California. She graduated with a degree in English and promptly entered the Business world. By day she works in Affordable Housing wrangling contracts and agreements with several government […]

Posted by Kate Parker Jul 10 2015, 12:05 am in historical, romantic mystery, Royal Weddings, Victorian

Ruby Sister Kate Parker's newest arrived this week with a pretty cover perfect for a royal bride who is an accomplished painter. Princess Kira, great-granddaughter of Nicholas I of Russia, is engaged to the Duke of Sussex, great-grandson of George III of Great Britain. There will be a royal wedding, if the bride and groom […]

Posted by Kim Law Jul 9 2015, 12:01 am in guest, research, romantic adventure, settings

Today on the blog, I've invited a special guest. A friend of mine who not only loves adventure, but *loves* writing about it in faraway places! I recently read her debut book, DIAMOND LEGACY, and not only did I thoroughly enjoy the romantic suspense and adventure, but I got swept away in her locations! So, […]

Posted by Jeannie Lin Jul 8 2015, 12:10 am

It was neither the best day, nor the most beautiful. But no amount of rain could dampen my mood. I sat across from a writing friend I'd known for years and drank my iced tea. (A little sweet for this girl from New Jersey who now lives in Virginia, but I've adapted.) Despite the drenching, […]

Posted by Elisa Beatty Jul 7 2015, 12:01 am in 2015 Golden Heart finalist, paranormal YA romance, The Culloden Immortals, Tosha Sumner, Young Adult Romance

Today we're delighted to welcome another YA-writing Dragonfly: Tosha Sumner, 2015 Golden Heart finalist in Young Adult Romance for her manuscript THE CULLODEN IMMORTALS. Forever optimistic and easily amused, T.L. Sumner is the author of magical stories about strong, athletic heroines chasing their dreams on and off the playing field. She holds both a B.S. and M.S. in […]

Posted by Elisa Beatty Jul 6 2015, 12:01 am in 2015 Golden Heart finalist, Diana Munoz Stewart, Mind Traveler, time travel romance, Young Adult Romance

Welcome back from the holiday weekend, everyone! Today we're delighted to welcome Diana Muñoz Stewart, 2015 Golden Heart Finalist in Young Adult Romance with her manuscript MIND TRAVELER. Diana Muñoz Stewart's award-winning young adult and adult romantic fiction includes paranormal, science fiction, and contemporary stories. No matter the genre or whether her characters face death, […]

Posted by Ruby Admin Jul 3 2015, 12:01 am in Fan Girl Friday, Kate Parker, Kim Law

Welcome to Fan Girl Friday! We have lots of great books here! New This Week On Tuesday, July 7th, we will celebrate the release of Kate Parker's ROYAL ASSASSIN When the Duke of Blackford enters her bookstore, Georgia knows the Archivist Society is in need of her services. The Tsar of Russia and his family […]

Posted by Amanda Brice Jul 2 2015, 12:01 am

Nationals is coming up, so I'm reprising one of my more popular posts from years past on pitching. Let us know any tips or pitching stories you have! Don't despair if you couldn't snag a pitch appointment with the editor or agent of your choice. Plenty of opportunities exist for pitching outside of the […]

Posted by Vivi Andrews Jul 1 2015, 12:01 am in New York City, RWA conference

This year the Romance Writers of America National Conference is in Manhattan and we all know New York City is notoriously expensive.  If you want to eat there without paying $25 bucks a plate or taking a chance on street meat, it can be a challenge.  Luckily, I have some insider tips to keep your […]

Posted by Elisa Beatty Jun 30 2015, 12:01 am in 2015 Golden Heart finalist, Julie Glover, Sharing Hunter, Young Adult Romance

Today we're welcoming Julie Glover, 2015 Golden Heart finalist in the Young Adult category with her contemporary novel manuscript SHARING HUNTER. Julie Glover grew up reading Laura Ingalls Wilder, Judy Blume, and every Nancy Drew book she could get her hands on. Although she'd always dreamed of writing a novel, she didn't write her first […]

Posted by Elisa Beatty Jun 29 2015, 12:03 am in 2015 Golden Heart finalist, Brynn Kelly, Deception Island, Let It Go, romantic suspense

Today we have the pleasure of welcoming another Dragonfly guest blogger: 2015 Golden Heart Finalist Brynn Kelly, whose book DECEPTION ISLAND is nominated for best Romantic Suspense. Brynn Kelly is an award-winning novelist and journalist, and bestselling non-fiction author from New Zealand. She could well be setting a RWA15 record for the longest non-stop journey […]

Posted by Ruby Admin Jun 26 2015, 12:01 am

 This is a big week of Ruby launches and sales! New This Week BARED TO THE VISCOUNT, by Lara Archer Poor, plain spinster Mary Wilkins has no business falling in love with Viscount Parkhurst. They may have been best friends in childhood, but he's the wealthy, powerful lord of the manor now, and everybody knows […]
Coming Soon on the Blog
August 1, 2015


by: Liz Talley
Read a Romance Book Month

August 3, 2015


by: Tamara Hogan
Writing is (Mostly) Writing by Nancy Holland
Find the Rubies
The Rubies don't have any appearances scheduled. Please check back soon!